Beautiful Cuba
With Intrepid!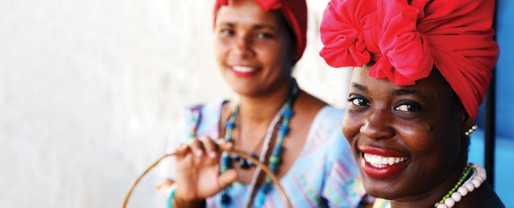 $2280
per person, twin share*
SALE ENDS 15 September 2019
Contact your local broker to book now
Kickstart your adventure with a $1 deposit!!*
Based on a 24 Feb 2020 Departure, other Travel Dates are available, please contact your NZ Travel Broker for pricing.

*Travel Lightly with Intrepid. They have already offset the main sources of carbon emissions from this trip on your behalf, including transport, accommodation & waste.*

Travel to Cuba and enjoy a relaxing week-long adventure while immersing yourself in the history, culture and natural beauty of this colourful Caribbean island. Cuba's imminent political and cultural change makes it something to experience now before it evolves. Wander through Havana's glittering colonial architecture, soak up the clear mountain air among Soroa's vibrant mountain orchards, relax on Playa Ancon's vast white beaches and admire Trinidad's unrivalled ambience. From old cars to fragrant cigars and with plenty of salsa in between, this trip has it all and is the perfect introduction to all things Cuban.
Terms and Conditions
Prices are correct at time of printing, subject to availability, currency fluctuation & may be amended or withdrawn at any time without notice. Amendment and cancellation fees apply. Travel Agent professional service fees may apply. Prices are in New Zealand dollars for payment by cash, cheque and eftpos only. We welcome all major credit cards however a credit card processing fee will apply. Whilst every care is taken to accurately present the information & pricing we reserve the right to correct any errors or omissions. Further terms and conditions apply. Contact us for further details.
From 1 August 2019 to 15 September 2019, only $1 deposit will be required to secure your Intrepid Travel trip when travelling by 31 December 2020. The $1 deposit can be paid towards any Intrepid small group adventure with the following exclusions: Polar trips – includes all itineraries in the Arctic and Antarctic; Tailor-Made Experiences, Adventure Cruises - including Galapagos Queen Beatriz itineraries, 18 to 29s Asia Pass, Inca Permit trips, Gorilla Permit trips and Expedition style trips, Short-Break Adventures, selected Patagonia and Tibet trips, and the Kazakhstan Adventure (KFSK). Excluded Gorilla Treks: Pre-purchased permits are required to secure the trek to see the Gorillas. Excluded trips are: YXOG, YXOIC, UXODC, UBODC, YXOGC, YXOCC, YXOFC, YXOEC, YGAU, YGAR, YGAG, YGSU, UUAO-C, YGSGS. Excluded Inca Trail trips: Pre-purchased permits are required to secure the trek. Excluded trips are: GGBL, GGBNC, GGBPC, GGBTC, GGBWC, GGBZC, GGCLC, GGCRC, GGFA, GGHC-O, GGKIC, GGKY, GGOA, GGSA, GGSAC, GGSEC, GGSFC, GGSQ, GGSTC, GGSUC, GGTA, GGTBC, GGXT, GGXTC, GGYP, GGYM, GGYBC, GGYQC, GGYA, GGYC, GGYDC, GGYE, GGYEC, GGYCC. Excluded Select Patagonia trips: Internal flights are pre-purchased to secure the trip: Excluded trips are: GPTV, GPTU, GGCB, GGSJ Excluded Select Tibet trips: Internals rail passes are pre-purchased to secure the trip: Excluded trips are: CBSO, CBST Excluded Adventure Cruising & Galapagos Queen Beatriz: GMQA, GMQB, GMQC, GMQD, GMQE, GMQF, GMQG, GMQH, GMQI, GMQJ, GMQK, TTBK, TTBC, TTCIC, TTKIC, TTMM, TTMP, TTMT, TTMI, ZSDS, ZSSD, ZSDCD, ZSSCD, ZSZSC, ZSDNC, ZSDZC, ZSNSC, ZSNC, ZSSZ, ZSZS, ZSLM, ZSLT, ZSDA, ZSGT, ZSCO, ZSTB, ZSRI. The offer can only be applied to new bookings only and cannot be used in conjunction with another offer or discount, the offer is non-combinable. Multiple $1 deposit bookings may not overlap in travel dates, however consecutive $1 deposit bookings are permitted. Full payment is required 56 days prior to departure. If booking within 56 days of departure, full payment is due immediately. Standard booking conditions apply as per Intrepid website www.intrepidtravel.com. Cancellation fees apply. All tours are subject to availability. Prices, itineraries and inclusions are subject to change without notice. If the traveller wishes to cancel and rebook or to change dates or tours, they will be required to pay the full $400 deposit towards the new trip. This condition is applicable even inside promotional period. This offer is valid for residents of Australia and New Zealand booking in AUD or NZD only.
Inclusions
Meals
7 breakfasts, 3 lunches, 2 dinners

Transport
Private vehicle

Accommodation
Premium Guesthouse (5 nights), Standard guesthouse (2 nights)

Included activities
Havana - Leader-led Walking Tour of Old Havana
Soroa - Orchid Garden (Entrance fee and Guide included)
Vinales - Leader-led Orientation Walk
Informal Spanish lesson with leader
Vinales - Half-day Valley Walking Tour including Tobacco Farmhouse (Guide included)
Vinales - Farm to Table Dinner at an Eco-friendly Ranch
Bay of Pigs - Visit & swim
Cienfuegos - Leader-led Orientation Walk
Cienfuegos - Palacio de Valle (Entrance fee)
Trinidad - Leader-led Orientation Walk
Trinidad - Salsa Dance Lesson (1 hour)
Santa Clara - Che Guevara Mausoleum and Museum
Havana - Revolution Square